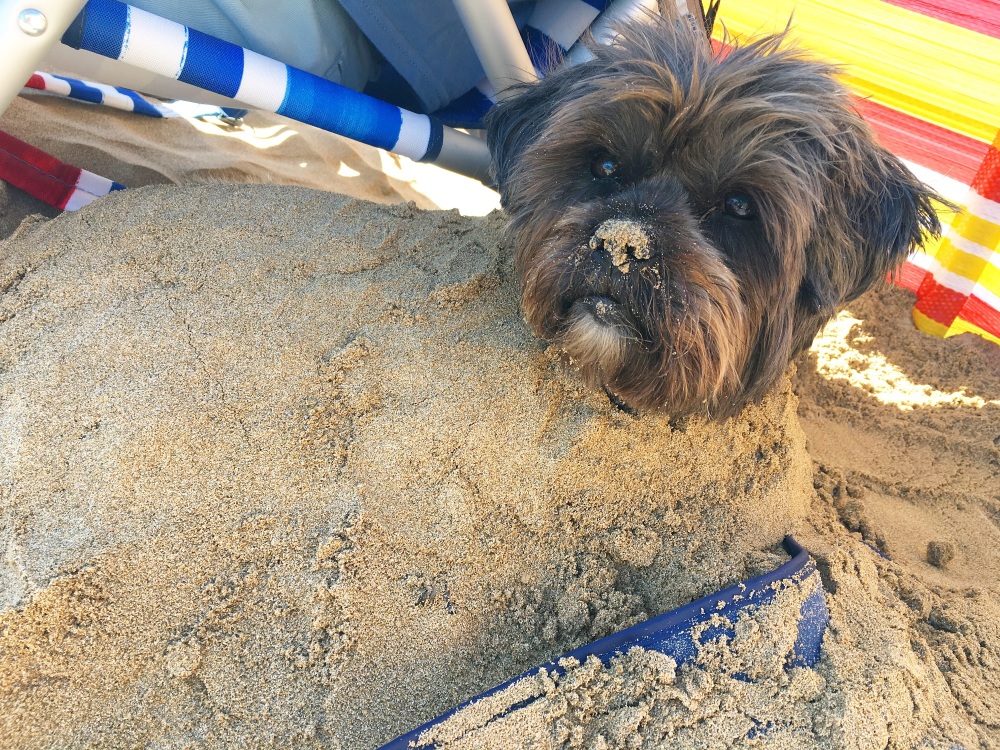 Hi Everyone!

As most of you know, I went to Cornwall for my summer holidays and it was AMAZEBALLS! In all of my 10 years this is the first holiday I've ever been on. Apparently I can't be trusted and that's why I haven't been before?! I beg to differ, but at least I get to stay at my brother Bubbles' house and put on half a stone from all the extra treats my pawsome Aunty gives me! Anyway, let me tell you my Top Five Favourite Moments...





Woof 1:

We set off bright and early (much to my utter disgust :P) on a Saturday morning, and I could not wait to see where I was going! I've never been more than an hour in the car before, and normally I just join my mummy in dropping my sisters off to school. As you can imagine, I was very confused and excited when we stopped off at this incredible place called a Service Station. I got out, stretched my legs, flirted with the nice lady dog who got out of her car to have a quick walkies too, then back in we got and off we set for another six hours! (I had to stay with my sister near the end though because she started to get one of her stupid migraines :( but she felt much better after a big sleep and a some extra lovin' from moi.)
We finally arrived after nearly eight hours, and can you believe it… They'd only gone and brought me to a new house! It smelt deeeelicious and I had a pawsome chat with some of the other doggies staying at the resort. One of them had come all the way from France! We were all super tired after such a long journey so went to bed nice and early. That way we were ready for the next day's adventures!
Bark 2:
Have you ever been to Padstow? If you haven't then boy you've been missing out! It's the most coolbeans place I've laid eyes on (other than my bed of course!). There was shops and pasties and boats and lady dogs and ice cream and sand and lady dogs and sea and lady dogs and… Oh! The list is endless! We spent the day mooching through the shops - which I was actually allowed in, ME of all doggos - before grabbing a pasty and some chicken and hopping on my first ever boat ride to go over to the posh place called Rock.
When we got there, we thought it would be a great idea to go on a four mile long walkies. Did we know it was going to be "Feels like 30͒" heat? Nope. Did we know we would get lost and it would turn into a six mile walkies? Nope. But did we absolutely love it? YES! Absolutely! #familybonding
Paw 3:
Woohoo! It's time to go to the beach! Where I live we only have beaches with stones… stones… and more stones, but down in Cornwall there's just sand. So much sand! So on this trip to the beach I didn't have to hobble like a little old lady over all the nasty pieces of rock. I could just run, and run, and run for my life - but only about six metres because then I got tired and had to have a lie down! After that I went surfing; that's right ladies, I surf ;) and made sandcastles and walked through the rockpools, have any of you seen that video of me my evil sister took of me running through the rockpools and disappearing under the water? Turns out I'm scared of water, even though I'm a Sea Dawg! And when it comes to it, it just so happens that not only do I thoroughly enjoy digging, but also being being buried in sand and sculpted into a mermaid!
Scratch 4:
Time for crabbing!
I was so excited when we got in the car and set off for our next adventure, but a little bit confused as to why it took us so long to go to the Looe?! When we arrived it was a gorgeous little seaside town - the perfect time for a photoshoot :) After strolling through the shops (and tying me up to the dog post because I was allowed inside the sweetie shop!) we thought we'd have a go at crabbing. Have any of you tried this before? It was my first time and it was AMAZEBALLS!
The bacon was delicious - don't tell my humans I stole some! - and we caught soooo many crabs it was unbelieveable. I think we caught 56 in total! Don't worry buds, we released them all back into the sea, but not until my big sister had put one in my little sister's hair! That night I stayed at a hotel for the first ever time, boy I've been missing out for the last ten years. I don't know why I've never been allowed to stay in one before - I only wee weed once :P
Belly Rub 5:
Oh! My! Goodness!
Have you ever seen a middle aged man and two extremely clumsy sisters attempting to run along a giant bone-shaped inflatable in the middle of a 20ft deep lake? Well I have! Trust me, you'll get a million and one highly embarrassing photos of your Daddy doing the splits in mid-air, and I still can't shake the unfortunate memory of my sister's bikini falling off as she came down the waterslide!
I've had the best two weeks of my entire life and can't wait to do it all again next year :) I'd love to hear all about your favourite family time memory too - let me know all about it in the comments!
So much love my little Cornish pasties,
Tommi xxxxxxxx